Start Your Free Trial Today
Kartra vs Kajabi, so which one is better?
Raise your hand if you're really, really tired of tool stacks.
You know what I mean…

You get website hosting from one company, and web design from another.
Then you start marketing your business and you have to upgrade your stack with:
– MailChimp for email marketing
– HubSpot for lead management
– the list goes on  and on.
I got tired writing this.
Managing all those tools and making them work together to increase your sales is even worse.
The solution?
All-in-one marketing platforms.
They're absolute dreamboats for eCommerce businesses;
regardless of whether you sell physical products, or services.
In this review, I'm going to pit two greats against each other: Kartra vs Kajabi.
Which one will come out on top?
Let's find out!
What Are the Benefits of All-in-One Marketing Platforms?
All-in-one marketing platforms are a direct response to thousands of business owners groaning: "Ugh, not another tool!"

The "ideal" marketing stack according to Mopinion
Every single one of these tools comes with a (hefty) price tag.
At the end of the month, the costs add up. You wind up wondering why the heck you're paying for all of them.
However, you can't do without complex marketing features:
Your website is your online storefront

SEO helps you attract new leads

Email marketing converts visitors into customers

Affiliate marketing significantly reduces your costs and helps you increase your sales
And so on.
Basically, it's not enough to just pay for ads.
You need a marketing system that converts leads, even while you're sleeping.
Finally, it takes time, patience, and money to integrate all the different tools in your stack.
When you're using an all-in-one tool, you don't get these problems.
All-in-one marketing platforms like Kartra and Kajabi:
Facilitate seamless automation

Offer the majority of marketing services you need

Perfectly integrate different features with your website (also hosted on that platform)
Now that it's clear what I'll be looking for in this comparison, let's dive in!
Related Article: Best Blogging Courses for 2020
Kartra vs Kajabi: Overview
What Is Kartra?
Kartra is hands-down one of the best all-in-one marketing platforms today.
It replaces:
Website hosting

Landing page builders

Email automation tools

Membership software

Affiliate marketing tools
And more!
As such, Kartra is a great fit for everyone who conducts their business online.
It works just as well for bloggers, online entrepreneurs, and big eCommerce companies.
It's an entrepreneur's marketing fantasy!
This is a pretty good offer, which isn't surprising considering that Genesis Digital LLC is behind the platform.
This company, founded in 2013, is well known for its SaaS marketing solutions, including WebinarJam and EverWebinar.
And even though Kartra's hard launch took place in 2018, it's come a long way in just a few years.
What Is Kajabi?

Spend a moment or two scrolling through Kajabi's website, and it'll become pretty clear that Kajabi targets membership businesses.
Kajabi's features include:
Website hosting

Email marketing

Landing page builders

Membership site support
And more.
However, their product limits are pretty strict. You won't be able to sell more than 100 products even with the most expensive plan.
Even their official Crunchbase profile states that Kajabi is a knowledge commerce platform.
And while the company was founded in 2009, they haven't come a really long way.
They've mainly focused on knowledge commerce and hey, I tip my hat to them.
However, if you want to sell anything other than courses or webinars, it's not going to be smooth sailing.
Kartra vs Kajabi: Features
What Are the Most Important Kartra Features?
Kartra has some pretty handy features.
In general, it's a well-rounded tool that can truly help you manage your marketing from one platform.
Kartra's Page Builder
Kartra's page builder is the foundation of their offer.
You can use it to build everything from landing pages to regular category pages.
You don't have to spend a single minute coding.
Kartra has a visual, drag & drop editor.
Simply drag and drop the elements you'd like on your page, including:
Paragraphs

Videos

Forms

Buttons

Menus

Pop-ups

Sticky alert bars
And more!
Additionally, you can pick from 500+ page templates.
When you find the one that suits you, all you have to do is customize it, and you'll be good to go!
This is a huge benefit.
You no longer have to pay for web design; you can get it done yourself.
Pop-ups and sticky bars are a great touch.
Normally, you'd have to integrate them with another tool.
However, Kartra offers 6 types of pop-ups, and your pages will be perfectly integrated with the entire Kartra ecosystem.
No landing page is complete without a lead gen form.
Kartra lets you pick from templates or create lead gen and checkout forms from scratch.
If there ever was a turn-key solution, this is it, folks!
This is a massive, massive advantage in an era where more than half of consumers expect personalization.
Kartra Funnels & Campaigns
ClickFunnels may have popularized the idea of practical sales funnels that convert your visitors on autopilot, but Kartra polished it to perfection.
As you can see in the image above, you can drag & drop your way to a complete sales funnel, including:
Pages

Email marketing

Lead tags based on interests, behavior, and more

IF and THEN automations
And more!
The key to it all is Kartra's sequence builder.
Instead of integrating dozens of different tools to achieve this functionality, you can just plug and play.
There are templates for Kartra sales funnels, as well.
You can personalize your sequences at scale with IF and THEN automations.
Just because an user didn't click on the right link doesn't mean you've lost them; simply reroute them to a different sequence.
As the folks behind Kartra say: "It helps to have a visual mind map of your marketing strategy."
Let's be honest: this is very, very complex marketing that brings even better results.
However, without a visual all-in-one tool like Kartra, it's a mess to implement.
With Kartra, you don't have to integrate anything.
All you have to do is pick the right template, or drag & drop the elements you'd like to be a part of your funnel.
Kartra Email Marketing
Kartra's email marketing feature is both beautiful and efficient.
Since it's a vital part of funnels and campaigns, email marketing is governed by automations:
Automatically send follow-up messages

Assign lead tags to leads who clicked on a particular link

Reengage customers based on their interests
And more!
All you have to do is set trigger events (e.g. a lead clicked on a link), and Kartra will launch a full-blown email sequence to coax your lead into performing target actions.
You can also set multiple trigger rules.
For example, you can use a different sequence for leads who have both subscribed to your newsletter and purchased a product immediately.
And no, you don't have to reinvent the wheel.
Simply set the right trigger rules, and Kartra will use its IF and THEN automation system to adapt and convert your leads.
When it comes to analytics, Kartra will show you everything you've always wanted to know.
And since it's completely integrated with the rest of your marketing engine (i.e. it's all in Kartra), you'll get a complete look at your customers' behavior.
It's powerful stuff!
Kartra Leads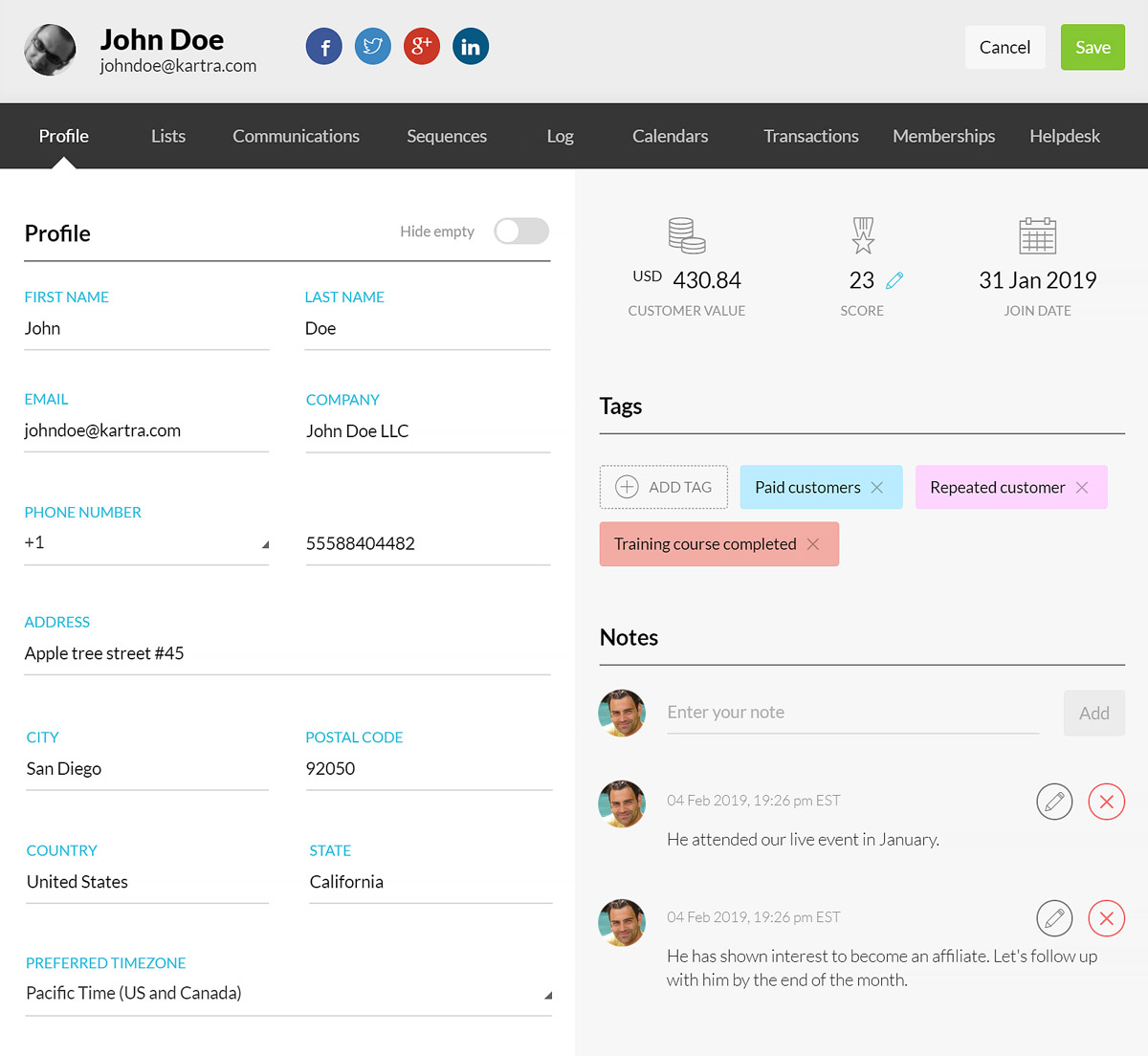 Kartra just keeps on wowing me, but what can I do?
They really thought of everything!
Kartra Leads is a completely integrated CRM (customer relationship management) system.
Its main advantage?
It's tightly integrated with the rest of the all-in-one marketing platform.
Firstly, you'll be able to see entire profiles of your leads, including the newsletters they're subscribed to, and their behavior.
You can construct a complete timeline.
This would've been useful information even in the form of data.
However, when you can actually dive in and see how your leads really find your site, it's priceless.
We keep talking about understanding our customers' journeys to us, but Kartra is among the first to offer a viable way of doing it.
Spot a problem?
You can easily fix it.
Leads often bounce at a certain point?
Change it. Everything is working great? Congratulations!
Optimization is very simple with Kartra.
You can also score leads with Kartra.
They're given points for every action they take (e.g. 3 points for purchasing a product), which ultimately shows you their LTV (lifetime value) and helps you choose which leads to focus on.
Perhaps you find that Facebook leads have the highest order value.
It's easy to double-down on that particular platform.
But you can only improve if you can see what works – and Kartra's sight is 20/20!
Kartra Membership Sites
Running a membership site is a piece of cake with Kartra!
First, you'll use the drag & drop page builder to create your site.
You'll be able to select from a plethora of templates.
Then, simply add your lessons and structure your content.
Kartra offers several membership-specific features:
Multiple membership tiers

Drip content over time

Course progress tracking

Comments and moderation

Global membership portals (if you have multiple membership programs)
I wasn't expecting Kartra's membership site program to be this good.
It has everything you need to create a great membership site, even for E-Learning.
At the same time, you'll get phenomenal cross-selling opportunities if you create a global membership portal with different courses.
Kartra Helpdesks
This is the one part that all-in-one platforms usually muck up:
they forget about customer support, and make you handle ticketing through another tool.
Integration? Failed.
Fortunately, Kartra thinks of everything, so you'll get a powerful ticketing system.
You can communicate with your customers via live chat.
If you need help from another agent, you can easily get it and start a group conversation.
A few Kartra customer support features I really love include:
Customer self-billing portal (Wave goodbye to manually updating customers' credit cards)

Knowledge base for self-support

Powerful analytics
All in all, it's everything you need to provide quality support to your customers!
Kartra Affiliates
Affiliate marketing is definitely one of the best ways to promote your business without paying ludicrously high costs per views or clicks.
Your affiliates only earn when they've successfully sold your product.
Affiliate marketing is a staple of all-in-one marketing tools, and Kartra doesn't disappoint:
Customize commissions tiers

Establish milestones

Create custom landing pages

Run an affiliate-only newsletter
And more!
When recruiting affiliates, Kartra will supply you with a survey you can use to learn more about your affiliates.
This is a great idea, as you don't want someone to mess up promotion and harm your reputation.
As always, you'll also get powerful analytics.
Kartra Videos
Kartra has an incredibly powerful video marketing system.
In addition to letting you customize your videos to your heart's content, you can also integrate it with Kartra lead tagging system.
For example, if a lead has seen a certain portion of your video, you can add the appropriate tag. E.g. "Has seen the offer."
All of this allows you to personalize your approach to different leads, and create a holistic profile.
One of the main problems with marketing so far has been data inaccessibility.
Sure, you could create customer personas – but were they accurate?
Kartra's highly-transparent marketing system allows you to validate your hypotheses.
What Are the Most Important Kajabi Features
Kajabi specializes in membership sites, primarily membership sites that offer E-Learning and courses.
So, what's it got to offer?
Subscriptions, Courses, and Digital Products
Again, Kajabi mainly focuses on courses, so you'll be able to upload your digital products to their platform.
The maximum number of products you can offer is 100.
You can pick from different pricing plans:
One-time payment

Free trial

Payment plan

Subscriptions
There's not much to see here, honestly.
Kajabi is okay if you plan on selling courses, but it's hard to scale by diversifying your offer, or start a different kind of business with their platform.
Kajabi Website Builder
Any self-respecting all-in-one marketing tool has to have a website builder, and so does Kajabi.
Similarly to Kartra's website builder, Kajabi's website builder is also visual, meaning that you can pick from templates and drag & drop your way to a website.
You can also host your website on Kajabi.
It'll be completely integrated with the rest of Kajabi marketing tools.
Kajabi Email Marketing
Email marketing is Kajabi's main marketing asset.
You'll be able to use page templates, as well as build your mailing list and automate lead nurturing.
Unfortunately, Kajabi doesn't have any extra tricks up its sleeve.
You'll be able to use basic stuff like automating your email sequences, but that's about it.
Kajabi Pipelines
Similarly to Kartra, Kajabi also offers a pipeline builder.
You can choose from sales funnel templates, integrating different steps that ultimately lead towards conversion.
For example:
Step 1. Lead sees your offer and signs up for your mailing list
Step 2. Email nurturing sequence or video nurturing sequence
Step 3. Conversion
This is pretty handy, especially if you're not proficient at marketing.
Kajabi vs Kartra Automations
Automations tie into Kajabi Pipelines, all with the goal of allowing you to create a complete sales funnel with Kajabi.
You can set up IF-THEN automations.
After a lead takes certain action, Kajabi will automatically proceed with other events.
For example, if a lead adds something to their cart but leaves, you could set up the system to trigger a cart recovery email.
Lead Tracking
Just like Kartra, Kajabi offers lead tagging.
This way, you can gain a better understanding of your customers in real time.
It's certainly a better alternative to guesstimating who your customers are!
Communities
Finally, Kajabi has a pretty neat feature: Kajabi Communities, an alternative to message boards like Facebook Groups.
This is a great asset for everyone who wants to start a membership site.
You want to keep your community connected, and Kajabi Communities is a great way to do it.
There's nothing particularly fascinating about Kajabi Communities.
We've all seen it before.
However, it's nice to see it integrated into this all-in-one marketing platform.
Kajabi vs Kartra: Pros & Cons
Now that I've covered all the features and explained what their benefits are, it's time for an in-depth look into pros and cons of each platform.
Ready for it?
Kajabi Pros and Cons
First things first, I want to say that Kajabi is a great fit for membership sites.
However…
if you sell anything other than courses, it's not going to be smooth sailing.
Additionally, Kajabi doesn't have as many powerful features; they've dipped their fingers in a few pies, without focusing on certain marketing segments (e.g. email marketing and automation).
In that respect…
I'd recommend it for first-time business owners who want to polish their content before expanding their marketing efforts.
If you've got a small mailing list, then Kajabi is a good way to get acquainted with sales funnels and all-in-one platforms.
(Plus, paying for one tool instead of paying for dozens is definitely more affordable.)
However, if you run a big business and know what you're doing, you're probably not going to like what you're seeing.
Kajabi is all-in-one marketing lite.
Is Kajabi Better than the Alternatives It's Trying to Replace?
Not exactly.
Kajabi states that it wants to replace MailChimp, but it doesn't have the powerful behavioral segmentation for email marketing.
While it does have lead tagging and some automations, it still can't compete with tools that have spent years perfecting their offer.
ClickFunnels?
It perfected the art of drag & drop sales funnels.
Kajabi still isn't quite sure whether it wants to offer funnels.
Even if you know what to look for, you'll have a hard time finding tutorials on their site.
It doesn't seem like sales funnels (pipelines) are an integral part of the tool.
When it comes to website and landing page builders, Kajabi is good.
Membership sites have been the ugly duckling of online business for a long time, so I'm happy to see Kajabi offering nice templates with great functionality.
For example, you'll be able to add quizzes and assessments, drip content, and more.
Finally, Communities are a nice touch.
Previously, membership site owners relied on Facebook to provide them with community engagement that would allow them to upsell their existing customers.
With Kajabi, they can host everything on the same platform.
What's the Problem with Kajabi?
Now, all of this is well and good. You know what Kajabi is made for.
However, what problems will you have with this tool?
First of all – the product limit.
Kajabi claims to be a general all-in-one marketing platform, and yet it's so oriented towards selling knowledge that its product limits reflect that.
Even with the most expensive Kajabi plan, you can only add up to 100 products and create 100 pipelines.
Again, not a problem if you want to run a membership site or sell courses. (Kudos to you if you can create and market more than 100 courses!)
On the other hand…
If you want to sell more than 100 products, as well as diversify your pipeline mix, you're going to run into a brick wall.
Secondly, I didn't like the website limit.
Even with the most expensive plan, you can't have more than 3 websites.
It seems intuitive to me that you'd have a little more than that if you have up to 100 products, but hey – to each their own.
Still, it's something to be mindful of.
Speaking of limits, even if you pay $319/month, you can't have more than 20,000 active members, and 100,000 contacts.
Reaching those numbers is a serious feat, but chances are, by the time you get to 20k active users, you're going to need a more powerful marketing machine.
And this brings up the question of scaling: can you scale with Kajabi?
Unfortunately this is where Kajabi falls short.
Kajabi doesn't provide an affiliate program until you upgrade to their second plan!
At least, not without adding extra tools to your stack. And then what's the point?
In that respect, Kartra is a much more powerful all-in-one tool.
Kajabi Pros:
Great for membership sites

Ready-to-use templates for webinars and events

Kajabi University tutorials

Kajabi Communities
Kajabi Cons:
Not suitable for anything but membership sites and courses

Jack of all Trades that still hasn't become a master of some

Pricing

Product, pipeline, website, contact, and other limits
Kartra Pros and Cons
Right now, it's pretty clear that Kartra is coming out on top.
But why?
Firstly, Kartra is definitely an all-in-one marketing platform in the full sense of the word.
Its features encompass everything a business owner might need; from automations to lead management.
And speaking of lead management, their CRM is really that – applicable CRM.
Forget about outdated HubSpot stuff;
Kartra is staying on top of trends, and giving you detailed data you need to craft your offers.
Is Kartra Powerful and Easy to Use?
While Kartra is a powerful too…
it doesn't inundate you with features or make you climb a steep learning curve to create a beautiful site and an even more powerful marketing engine.
And don't get me started on the funnel builder and automations!
Kartra e x c e l s!
This was my biggest complaint with Kajabi.
It doesn't offer enough in the way of funnels and automations.
Templates

IF & THEN automations

Supercharged email marketing

Lead and customer relationship management
And more!
If you manage your clients' websites, you can do it with Kartra Agency.
Similarly, if you want to use Kartra as your central hub which includes customer support, you absolutely can.
This is a huge advantage!
Do You Need the Most Expensive Plan to Get the Full Kartra Functionality?
No, and that's the beauty of Kartra!
You'll get unlimited pages, products, membership sites, and help desks with the second plan at $199/month.
If you want to start off slow, you can go with the first plan which offers up to 100 pages, 20 products, and 2 membership sites for $99/month.
Even in that respect, Kartra is more cost effective and functions more seamlessly than Kajabi.
Time is money, so I won't keep you any longer.
Just rest assured that Kartra is the best tool for online business owners who want a powerful marketing and sales machine.
Kartra Pros:
Great for different types of online businesses

A wide variety of integrated marketing features

Behavioral marketing

Easy to use and scale

Reasonable pricing

Powerful analytics

Customer service

Agency feature for managing your clients' websites
Kartra Cons:
Not specifically for membership sites, even though it has plenty of features to keep your students engaged

You can't blog
Minor grievances aside, Kartra is a phenomenal platform that comes at a reasonable price point and gives you plenty of tools to scale.
Kartra vs Kajabi: Pricing
Kartra Pricing
Kartra offers the most bang for your buck when it comes to all-in-one marketing tools.
The second plan is definitely the best if you're starting out but have plenty of products.
Later on, it's easier to scale and expand your marketing efforts.
Kajabi Pricing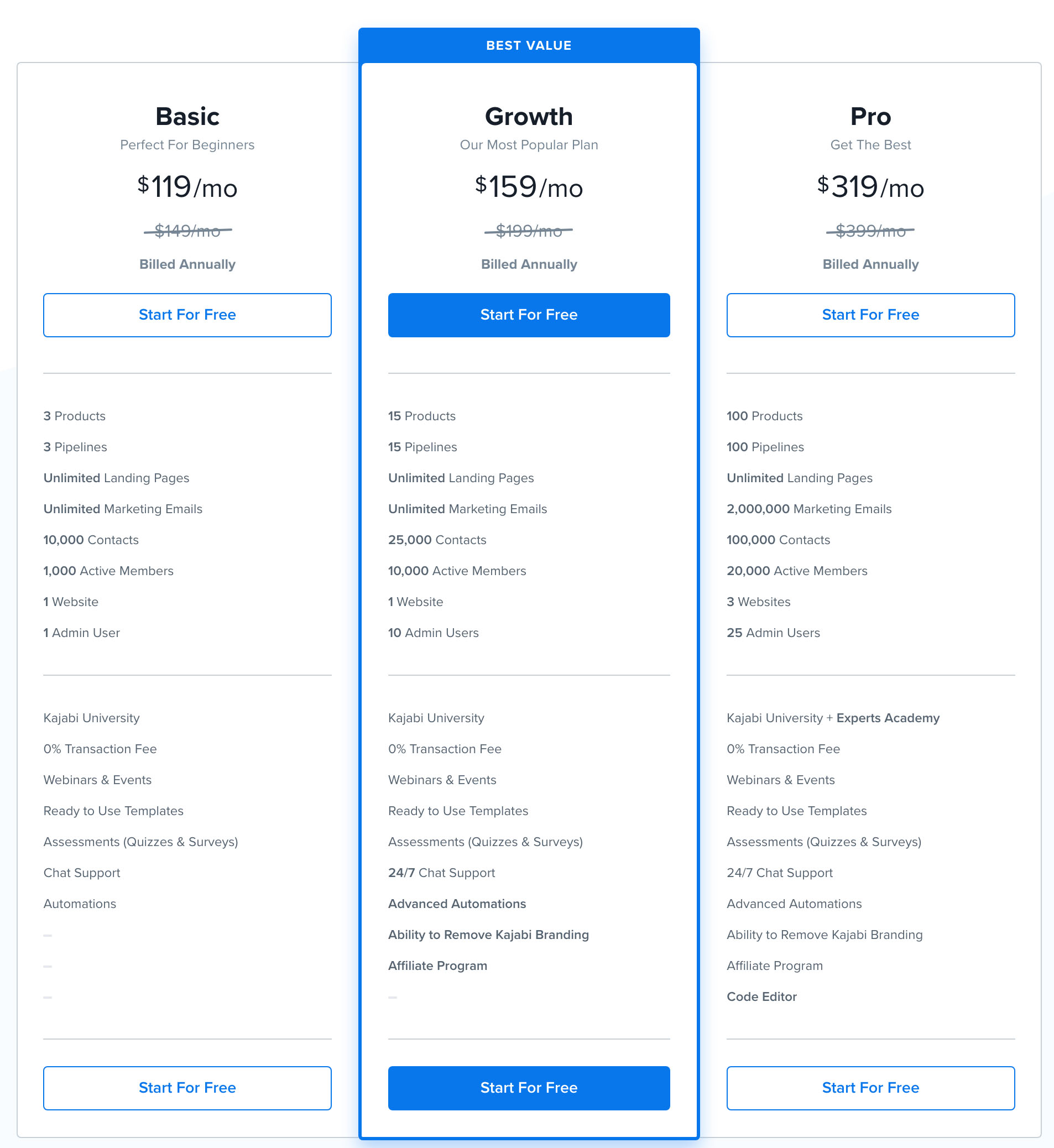 Personally, I don't think Kajabi is all that.
The pricing is definitely too step for what they offer. As you upgrade, you'll notice that features don't change – you're only getting more products and pipelines.
Summary
All in all, if you're starting a membership site, Kajabi is a good option.
But for everything else (including scaling your membership site or course business), go with Kartra.
With powerful features, easy-to-use UI, and reasonable pricing, Kartra is the best option for growing your business.
That sums up the Kartra vs Kajabi article.
All in all, they are both great marketing platforms, but best winner over all is definitely Kartra!