So, you want to start a blog and you've been searching for the best blogging courses that ACTUALLY DELIVER!
First off – congratulations! Welcome to the thrilling business of blogging!
Post by post, you'll increase your influence and potentially your revenue.
This post may contain affiliate links, please read our disclosure
What originally started as a method of sharing one's thoughts with friends and communities turned into a profitable business model. Blogging has come a long way from its humble LiveJournal beginnings.
Today, people read blogs to:
Learn something new

Get advice

Ask for feedback

Contract services

Purchase recommended products
To put it simply: blogs are the go-to resources right now.
In fact, blogs are the most important part of successful companies' content strategies, and 3/4 of internet users read blogs regularly.
Turning your blog into a profitable business isn't hard at all, with the right mentorship.
And speaking of profitability, IncomeSchool's recent research showed that bloggers earn a lot more than you might have thought.
New blogs (no older than 12 months) have been known to earn a few thousand dollars every month. And if you follow the advice in the courses I'll mention, you can expect to rake in serious sums to the tune of $100,000 a year or more.
So in this guide, I'll show you the best online blogging courses for beginners and advanced bloggers alike.
It's time to power up your blog!
Screwthedailygrind's Criteria for Best Blogging Courses in 2020
Before we get into the thick of it, I want to clarify my main criteria.
There are plenty of blogging courses out there. You want to find courses that offer:
Tactical and Practical Advice for Blogging
When you're starting a blog (or you're looking to increase your earnings), you need tangable tactics.
My first priority are courses that focus on tactics for beginner bloggers.
There are quite a few handy tricks to use, and I want to show you courses that chart a road map for you, instead of vaguely discussing what should be done.
This includes:
Sound marketing advice

Technical skills

Sales tips
All in all, I want you to be able to choose a course that teaches you everything you need to know to get started (profitably), or double-down on the skills you need to obtain.
There's a huge difference between hosting providers and marketing tools.
In my opinion, the best courses focus on the areas that new bloggers may not be familiar with.
For example, did you know that having a shared hosting plan could slow down your site, and prevent you from ranking on Google?
A good course will explain how all of this is connected, and why it matters.
I want to make sure that you find the best online blogging course to suit your needs. I'll only review courses that have a proven track record.
What does this mean?
A course has to prove that they're capable of turning beginners into pro bloggers, meaning those who started generating full-time income specifically from their blogs.
Finally, courses that offer extra resources like membership sites, support groups, coaching sessions, and printables will get extra points in my book.
Blogging is pretty hands-on, so every extra resource that helps you supercharge your growth is incredibly useful!
What You Should Expect from an Online Blogging Course
The best blogging courses share a few characteristics: they teach you about skills that truly matter if you want to make it in 2020.
Here's what you can expect:
Productivity and Management Skills

Setting realistic expectations

Scheduling work

Improving your productivity

Managing your blog and outsourcing work
In certain cases, there will be talk of mindset. While I'm personally not a fan, it can be useful for people who are naturally shy and need to develop a more direct approach to monetize their blog.
Technical Skills

Website hosting and setup

Website optimization

Content management systems (usually WordPress)
You don't need to turn into a tech whiz to run a profitable blog, but you need to know the basics. And the best blogging courses cover it!
The best courses teach you everything you need to know about cost-effective marketing methods for bloggers:
Search Engine Optimization (SEO)

Social media marketing

Content marketing

Email marketing

Paid advertising
Of course, they should also teach you how to conduct market research and create a sound marketing strategy.
While there are numerous ways to monetize your blog, the best blogging courses double-down on methods that work across different niches:
Affiliate marketing

eCommerce

Advertising

Services
They should also teach you how to use a combination of these methods!
Best Blogging Courses for 2020
Starting from the courses I personally found most valuable, and continuing with others that have helped beginners monetize their blogs, here are the best blogging courses in 2020:
Create And Go
What originally drew me to the Create and Go blogging courses was the story of its creators, Alex and Lauren.
They learned in a "trial by fire" atmosphere, and they had to do it all alone. They definitely talk about things no one else mentions, which is why the Create and Go courses are at the top of this list. Alex was tired of the morning grind as a personal trainer, and Lauren feeling a similar exhaustion from her 9-5 CPA position, first began their journey with the hopes to drink, blog, and have fun making money while do so. This unfortunately turned out to fail really fast, and their first blog was unsuccessful. They quickly realized they needed actionable steps to truly succeed in the online world of marketing. The reason they failed so hard so fast was because they were focusing on what they wanted instead of their potential audience.
After coming to this realization, the duo decided to go all in and quit their full-time jobs. Alex and Lauren made the decision to leave everything behind so that the two of them could focus on one thing and one thing alone; blogging! Within a few shorts months, the two of them began to start making money online with their small little health and fitness site. Fast forward a year, and they were making well over a 100,000 dollars year. It wasn't too long after they decided to create the website you see before you, Create and Go. The two of then are now currently earning a comfortable 7-figures a year, all from blogging!
What Do Create and Go Courses Cover?
The flagship Create and Go course is the 5-day boot camp which includes all the basics:
Starting a blog: step-by-step guide, blog topics, blog and hosting setup, blog design

Monetizing your blog: ads, sponsored posts, affiliate marketing

Marketing your blog: copywriting, social media, SEO
Cost: Free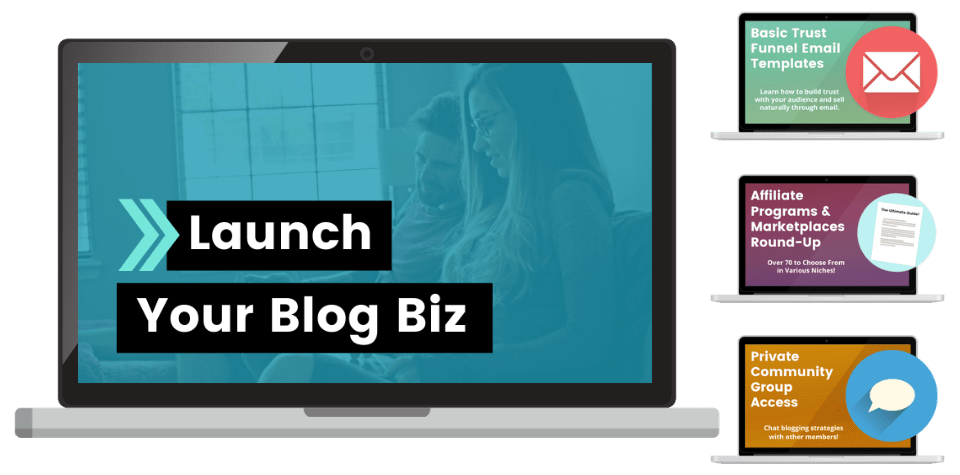 The second course is "Launch Your Blog Biz," which is a more hands-on course for bloggers who are ready to start earning $1,000's a month. It's the best online blogging course for beginners because it offers step-by-step walkthroughs for:
SEO

Blogging strategy

Blog content strategy

YouTube optimization

Blog themes and design

Ads and sponsored posts

Community support group
Email marketing with sales funnels

Detailed WordPress and website setup

Attracting and understanding blog traffic

Affiliate marketing basics and market research

Using Pinterest and Facebook Groups to drive traffic

Focuses on truths of blogging
And much more!
It's a really in-depth course that doesn't inundate you with information, but focuses on tactics, skills, and hacks that you can use to grow your blog immediately.
Cost: $297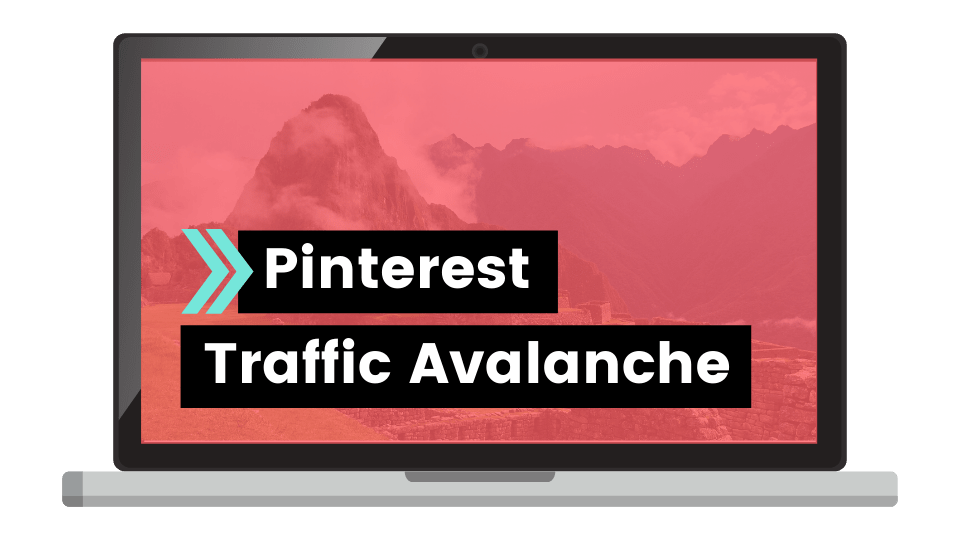 The third course is "Pinterest Traffic Avalanche."
Pinterest is actually one of the most profitable social networks for blog traffic, and the folks at Create and Go cover it concisely:
How to get started with Pinterest

SEO for Pinterest

Pinning strategies

Private support group

Creating effective pins

Pinterest traffic automation

Tools, checklists, and other resources

Walk through course for using Tailwind
And more!
As with all their courses, this course also offers step-by-step walk through guide.
You'll get a roadmap to success; all you have to do is follow it!
Cost: $197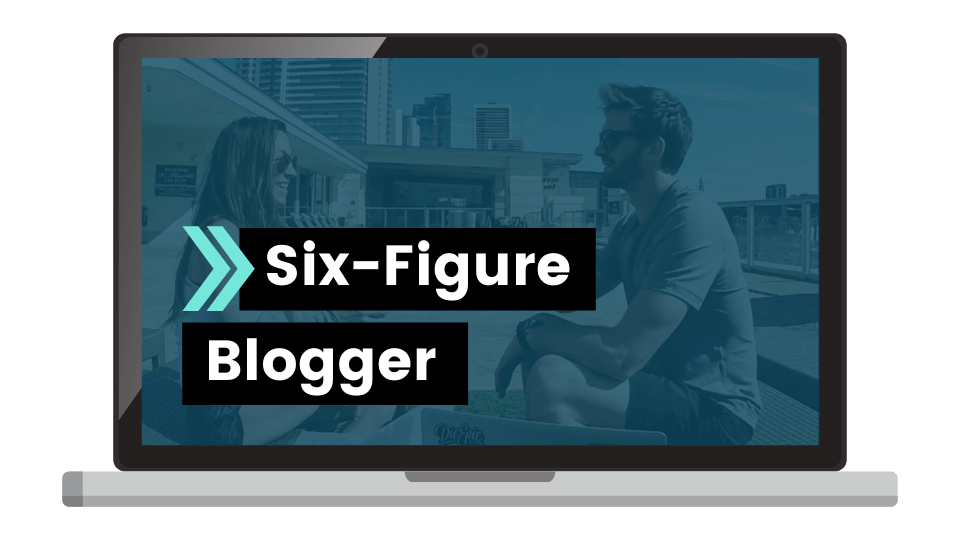 Their third course is "Six-Figure Blogger," and it's definitely a course for bloggers who've already started monetizing, but want to maximize their earnings. If you're a serious blogger looking to quit your full-time job, then this is a course you want to invest in.
The course covers:
In-depth guides to customer journeys, six-figure blogging business frameworks, sponsored post, ads, affiliate products, as well as your own products

Affiliate marketing

Digital product and service creation (eBooks, eCourses)

Sales and email funnels

Templates, bonus lessons, and private support groups
This is definitely a course meant for bloggers who mean serious business. It also works like a charm if you want to create your own products and services!
The two of them have helped several other bloggers transform their lives, allowing them to earn well above six-figures, all thanks to their Six-Figure Blogger course.
Cost: $297
You can also get all 3 courses for $647.
Pros of Create and Go Blogging Courses
Step-by-step guides for the basics, as well as advanced aspects of blogging.

Plenty of extra resources and support groups.

Focus on tactics and skills.

Proven track record.

Really dive into all aspects of blogging, including exposing some of the ugly truths (honest blogger truths).

Provide actionable steps to get you started on the right path today.
Cons of Create and Go Blogging Courses
Not a lot of productivity and mindset advice.

No administration training (outsourcing or hiring).
Create and Go Reviews
Their students make some serious money!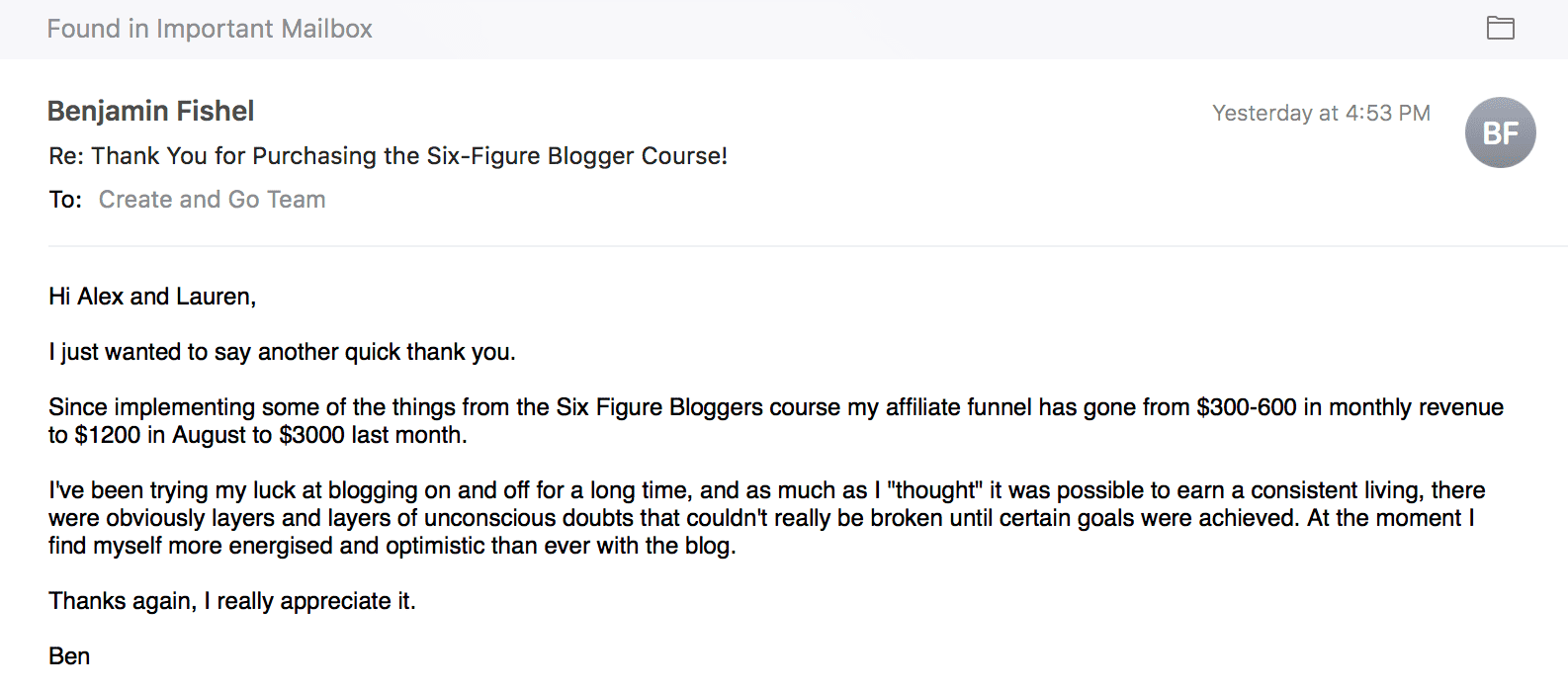 Get Started
Check out this Course Roadmap post to find the best course for your needs, and happy blogging!
2. Making Sense of Cents Blogging Course
We're in it to win it and Michelle knows it!
She originally started blogging because she wanted to pay off her student loans. Today, she lives a life she's always dreamed of.
Her "Making Sense of Cents" courses focus on blog monetization.
What Do Making Sense of Cents Courses Cover?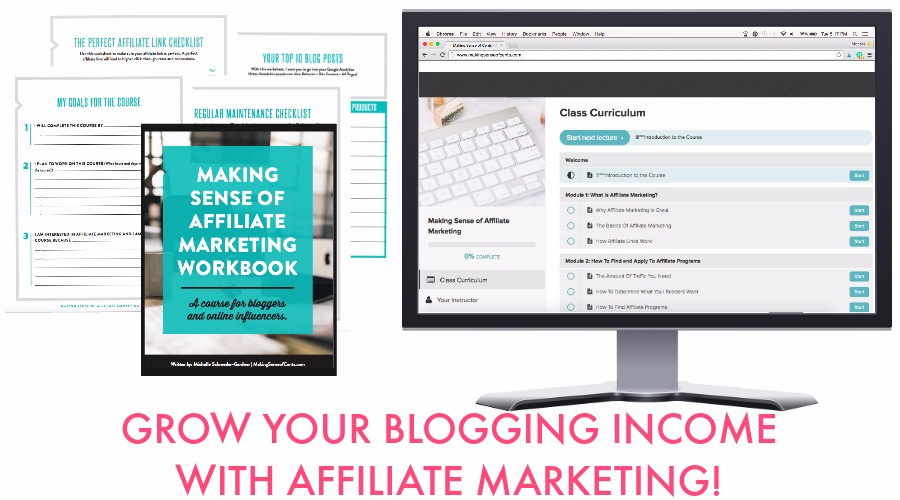 The first course, Making Sense of Affiliate Marketing, focuses on earning commission by promoting products relevant to your target audience.
It covers:
Michelle's affiliate marketing formula: step-by-step

Affiliate product research

Conversion optimization

Tools and strategies for affiliate promotion

Support group and group coaching sessions
Attracting traffic with Pinterest and Facebook Ads
And more!
All in all, it's a well-rounded course for bloggers who are ready to increase their earnings with affiliate marketing.
Cost: $197 or 2 x $105/month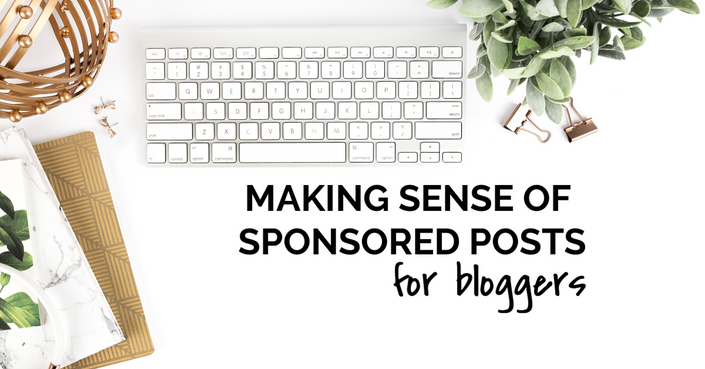 Michelle's second course is "Making Sense of Sponsored Posts."
This course is targeted at bloggers who want to monetize through sponsored posts. It'll teach you everything you need to learn about this method:
Sponsored post and sponsored partnership strategy

Finding, pitching, and closing deals with sponsors

Email templates

Pricing advice
And more!
The thing I love the most about this course is the fact that Michelle also talks about reputation.
She talks about the frequency of sponsored posts, and how you can use sponsored posts to connect with your audience, instead of simply promoting to them.
This generates plenty of long-term benefits. It's something not a lot of other blogging courses talk about.
Cost: $159 or 2 x $88/month
Pros of Making Sense of Cents Blogging Courses
Focus on monetization through affiliate marketing and sponsored posts.

Extra marketing tips; Michelle also talks about maximizing the value of your posts going viral, and generating viral traffic through Pinterest.

Support groups and coaching sessions.

Proven track record.
Cons of Making Sense of Cents Courses
The courses only cover specific monetization methods, so they might not be the best fit if you're starting from scratch.
Making Sense of Cents Reviews
Michelle's students say her courses helped them significantly increase their earnings:
Get Started
Take a look at Michelle's Making Sense of Cents website to decide whether you want to take the sponsored post or the affiliate marketing monetization route.
3. Built to Blog 
I really value courses that know who they're speaking to.
In this case, Ryan of Built to Blog knows exactly what beginners need to learn to start blogging. That's how he got started, after all, and now he's consulting for companies like Adobe and LinkedIn.
With a content mix that includes videos, extra resources, and interviews with successful bloggers, Built to Blog is a solid choice!
What Does Built to Blog Cover?
Built to Blog covers:
Setting up your blog: the technicalities and market research

Traffic-driving strategies: email marketing, Quora, content repurposing, and more

Different monetization methods: sponsored content, services, affiliate marketing, ads, and more)
Interviews with bloggers

Content strategy

Productivity tips
Built to Blog offers a great executive summary of the most important monetization methods, and shows you how to implement them.
Cost: $297 or 2 x $175/month
Pros of Built to Blog
Great course for beginners who want to hit the ground running.

Coverage of various monetization methods. Other courses typically cover sponsorships and affiliate marketing.
Interviews with bloggers such as John Morrow of SmartBlogger, Brian Dean of Backlinko, and Nathan Barry of ConvertKit.
Cons of Built to Blog
Not that many extra resources. If you want workbooks and printables, you might be a bit disappointed!

Ryan covers email marketing, but there's no mention of email automation, which is a significant conversion booster for bloggers.
Built to Blog Reviews
Built to Blog students claim that Ryan has helped them attract a lot more traffic. Not surprising, since Built to Blog really excels at covering traffic generation.
With over 54 lessons, 8 hours of videos, and 5 hours of exclusive interviews, Built to Blog is a great resource for beginner bloggers!
Get Started
Check out the curriculum here, and decide if this course is the right fit for your knowledge level!
4. Wealthy Affiliate
If you're ready to monetize your blog with affiliate marketing, look no further than Wealthy Affiliate!
This website doesn't just offer a course; it's a complete affiliate marketing support system.
What Does Wealthy Affiliate Offer?
Wealthy Affiliate is a platform that offers education and community for (bloggers who want to be) affiliate marketers.
So why did it make my list?
Because affiliate marketing is definitely one of the best ways to make money as a blogger, and Wealthy Affiliate offers plenty of educational resources, as well as website hosting.
Membership comes in two separate plans: Starter (free) and Premium ($49/month).
What's included in the Starter plan?
10 lessons in the Core Certification course

10 lessons in the Affiliate Bootcamp

50 training modules

Website builder

30 searches with WA keyword research tool
You'll come across a few limitations (for example, you can only receive up to 1,000 visits to your free affiliate marketing website), which is which it pays to choose Premium.
What's included in Wealthy Affiliate Premium?
Everything in Starter, plus:
Over 1,000 training modules
70 lessons in the Affiliate Bootcamp
50 lessons in the Core Certification course

Networking with experts

Bandwidth for up to 500,000 visits

Live 24/7 help and private coaching

Feedback and engagement platform

Tools for improving site speed, image optimization, and more
Extra tools: Keyword research, competition analysis, affiliate program search and management, etc.
All in all, Wealthy Affiliate Premium is a phenomenal resource for bloggers who plan on primarily earning through affiliate marketing.
Pros of Wealthy Affiliate for Bloggers
WA offers extensive training for affiliate marketing, but it also offers opportunities to network with the pros.
They also focus on marketing, and they created a toolbox full of useful tools for SEO, market research, and more.
You can create and host your website with WA to reduce your start-up costs.
Cons of Wealthy Affiliate for Bloggers
WA is great for bloggers who want to focus on affiliate marketing. However, there's not a lot of information about other monetization methods, such as sponsored posts.
Wealthy Affiliate Reviews
No course can promise you success. They can't manually drive traffic to your website.
What they can do, though, is give you all the knowledge you need to succeed.
And when it comes to affiliate marketing, WA know what bloggers need to learn.
Get Started
Sign up for the free plan to get a taste of what WA offers, and then upgrade to Premium if you're sure that affiliate marketing is the way to go!
5. Grow & Convert Course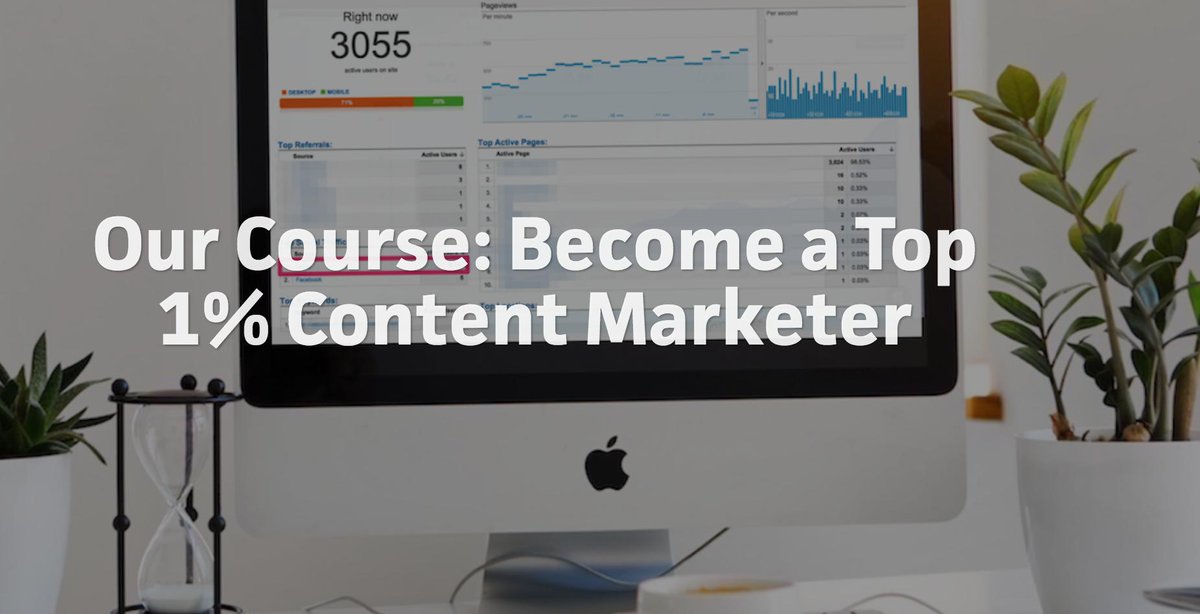 Regardless of your monetization method, SEO is the name of the game. After all, who can say no to free traffic?
What I love about Grow & Convert is that they dig in deep into the core of blogging – content.
This course was created by a content marketing agency, so they know what they're talking about!
What Does Grow & Convert Course Offer?
Grow & Convert is a blogging course that doubles-down on content marketing.
This is incredibly important if you plan on monetizing through affiliate marketing.
SEO may take a while to kick in, but it pays off in the long term. Get things right, and you can expect much higher profit margins than if you had to constantly pay for ads.
Grow & Convert covers:
SEO and content promotion based on pain points
Creating a content marketing system that converts

Performing detailed audience research

Measuring content marketing ROI

Optimizing your blog conversions

Creating highly-effective content

Outsourcing blog writing
In short, this is a course for beginners who already know the basics of content marketing, but want to improve their results.
This course is all about systems for researching, creating, and converting with your content.
Pros of Grow & Convert
I love their focus. Other courses cover content marketing as a part of the overarching blogging strategy. However, Grow & Convert leverages a powerful system to supercharge your content marketing.
Grow & Convert team has field experience – since they're a content marketing agency, they've worked across industries with a variety of clients, and they know how to make content work.
Systems are the key to success, and Grow & Convert's content system is amazing!
Cons of Grow & Convert
It's not for beginners. You're expected to know the basics of content marketing and content publishing.
Grow & Convert only covers content marketing and SEO. However, when you're running a blog, that's absolutely indispensable.
Cost: There's a wait list.
Grow & Convert Reviews
Their students emphasize the value of a systematized content marketing approach and thorough audience research. It seems like Grow and Convert really is a dreamboat for budding and advanced bloggers alike:
Get Started
Sign up to be notified when the course is released again. This one is definitely worth the wait!
In the meantime, check out their blog.
5. Income School
The next course resource on my list is Income School.
The founders of Income School, Jim and Ricky, have been helping people build online businesses for quite a while. And instead of only offering courses, they offer a support network similar to Wealthy Affiliates.
However, their focus is on the framework needed to build a six-figure online business.
What Does Income School Offer?
The course part of Income School is Project 24, a 60-step approach to building a profitable niche site. The membership includes:
A course library

94 videos and 123 lessons

Strategic and technical skills

Highly engaged community forum

SEO, marketing, and monetization strategies
Project 24 works for all kinds of online business owners and bloggers; from total beginners (Project 24 provides step-by-step setup guides), to advanced marketers.
Cost: $449
The second part of their offer is their website builder.
Again, this is really handy to have. Instead of paying for separate services and watching your costs stack up even before you've started generating revenue, you can pay for everything within one tool.
The website builder – Acabado – includes:
SEO features

Speed optimization

Mobile-friendly themes

Non-intrusive messages instead of pop-ups
Cost: $50 per year or $99 for lifetime access
Pros of Income School
Income School is a great resource for people who are ready to replace their full-time job with their online business (i.e. blog).

Follow the 60-step path to success; it's as simple as it gets!
An extensive course and lesson library for everyone from beginners to advanced marketers, making it really easy to learn as you scale.
Income School covers administrative aspects such as outsourcing and setting up your website.

They also offer a website builder!
Cons of Income School
Income School mainly focuses on monetization and generating passive income. While you can apply their advice to build different types of blogs, passive income is their priority #1.
Income School Reviews
So far, so good!
Income School doubles down on the things that make niche websites profitable, and helps you implement effective monetization strategies to your blog.
However, you won't be able to use Income School in a bubble.
If you're a beginner blogger, you should take another course, as well.
Get Started
Learn more about Project24 here, or subscribe immediately.
6. Jon Morrow's Blogging Courses
If you've been exploring the blogging industry for a while, you've probably come across Jon Morrow and his website – SmartBlogger.
He's one of the first bloggers who actually made it big, and he created his courses to help other bloggers reach his level.
Since Jon is not afraid of rolling up his sleeves and experimenting, you'll learn plenty of tricks you can't hear anywhere else!
What Do SmartBlogger Courses Cover?
The first course Jon made it big with is "Blog Traffic Blueprint," which covers:
Step-by-step walkthroughs of 5 traffic strategies (with examples)

Resources for deciding which strategies are best for your blog

Resources and recommendations
All in all, this course is really great for increasing your traffic.
Cost: $497
The second course to pay attention to is "Freedom Machine."
The course promises to help you set up your website, your marketing, and your monetization plan.
It's a general course for beginner bloggers that includes:
The formula Jon used to reach $100,000/month

Over 20 lessons with videos and worksheets

Workshops, Q&A calls, and a support group

Free website setup

Content research concierge that will show you the most popular articles for your chosen topics
Cost: $1,999 or 12 x $199/month
"Serious Bloggers Only" is not a course per se. Instead, it's a collection of over 30 mini-courses that cover:
Setting up the framework for a six-figure blog

Automated email marketing funnels

Sponsored posts

Monetization

SEO
And more! This collection of courses is really a crash course that'll teach you everything you need to know to get started.
Cost: $997 or 8 x $182/month
Pros of SmartBlogger Courses
An overview of different aspects of running a profitable blog.

Great for bloggers who are still in the traffic attraction phase.

Extra resources like coaching.

Focus on SEO for low-cost traffic.
Cons of SmartBlogger Courses
I'm not a fan of the prices – you can get much more interactive courses for less.
If you're an absolute beginner, you'll definitely find value in Jon's courses. But if you know the basics already, you might find the courses underwhelming.
The courses are targeted to freelancers who offer writing services. While you can use them to establish a blog in another niche, it's perfect if you plan on offering services.
SmartBlogger Reviews
A student, Misa Kozinova, said that, while the courses may not provide exact step-by-step blueprints, they still helped her set things up for blogging success.
It's no wonder, as Morrow has years and years of experience, and knows exactly what the searchers and the search engines want.
Get Started
Check out Jon's blog first to get a sense of his expertise, and then select the best course for your needs.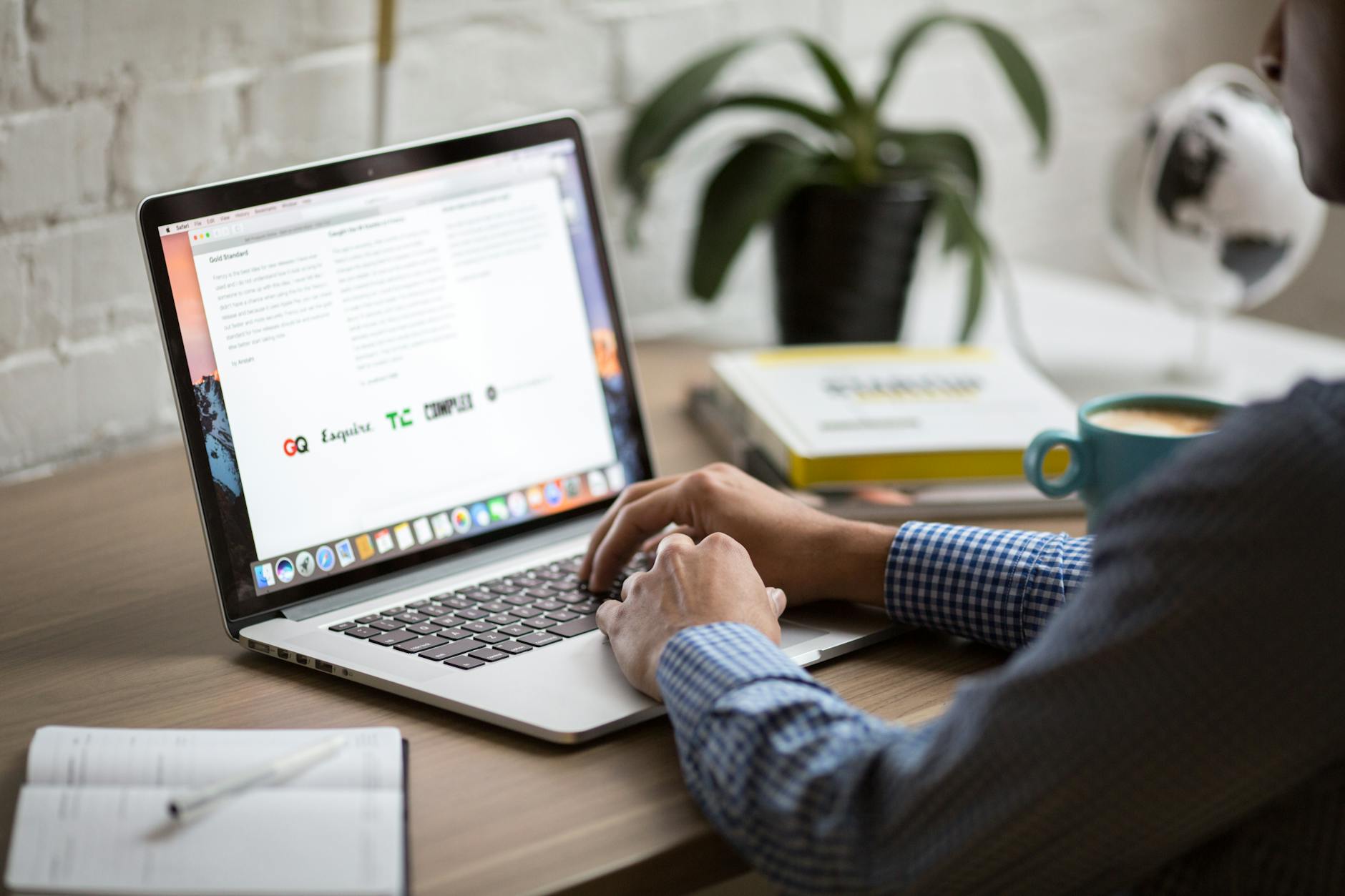 Summary
Every course has its own strengths and weaknesses.
However, it's important to define your goals before you choose a course:
What do you know?

Which skills do you need to obtain?

How are you going to grow your blog?
If you're only starting out, take a crash course first.
Then, once you've understood what the best monetization method for your blog is, dig into the specifics with more detailed courses.
There are so many ways to make money blogging. And a journey of a thousand miles begins with a single step.
Let's get started!
This post may contain affiliate links, please read our disclosure